Financial sparring partners for SME.
MIJN Accountantskantoor doesn't consist of stuffy accountants. Our enthusiastic advisers help think along with you. The Rotterdam way. No-nonsense. No bla-bla. Clear. Honest.
Via smart ICT solutions we enable your company to obtain future-oriented information in real time. Adjusting where necessary and tackling matters if possible. We make the financial soup surveyable so you can do what you are good at: running a business.
"For a several years I have been a client at MIJN Accountantskantoor. Alert employees who respond quickly. Always friendly. Reasonable rates. Positive 'Rotterdams'. All in the style of Jeroen Romijn, the founder of MIJN."
"I gladly refer entrepreneurs who want a sparring partner to MIJN Accountantskantoor."

"I do not like cold accountants – thankfully MIJN Accountantskantoor doesn't have them."
services
Our consultants support you in setting up and expanding your business. They give unsolicited advice, keep a mirror and warn you if you are about to deviate from your course.
team
The team of MIJN Accountantskantoor speaks your language. Accountants, tax consultants and advisers who know your situation and actively think along with you. Together we can advise you in almost every field.
Romy van der Poel
Office manager
As office manager I arrange everything behind the scenes: personnel matters, marketing, purchasing, etc. I'm also the person who welcomes you with a cup of coffee.
Marjan Wekking
Office manager
I ensure that our service not only concerns numbers, but also everything related to it: start-up of new customers, file management, invoicing and credit control.
Arjen Kreeft AA
Accountant
Digital developments mean that your financial information can be made available rapidly and real-time, so that we can respond proactively.
mr. Michel Engelaan
Senior tax specialist
My heart is with the SME: I enjoy dealing directly with the entrepreneur. I'm happy to show you the way to tax opportunities and threats.
Jens Nouwen AA
Accountant
My ambition is essentially practical: I am particularly interested in laws and regulations. I am seeking to develop my skills in this area, so that I can use this knowledge for 'our' entrepreneurs.
Mark van der Linden
Accountmanager
My ambition is to relieve the client of as many administrative and fiscal worries as possible. In this way, the client can focus on what he likes best, just being an entrepreneur.
Alex Rozendaal
Tax specialist
I enjoy working for SME entrepreneurs. In the world of SME I am in close proximity to you as an entrepreneur and I help you with the fiscal matters of your life's work. A rewardking task.
mr. Nathalie van Goor
Senior lawyer
I like helping the customer with all legal matters, so that disputes in an affordable way and through expert advice can be prevented or solved.
Jeff van der Stap
Assistent-Acccountant
I support our customers in the processing of administration. These numbers give you immediate insight into where your company stands.
Wessel van Rooijen
Assistent-Acccountant
It may sound a little strange to you, but I really enjoy helping entrepreneurs with their accounting.
Leonie Kranendonk AA
Accountant
I can put my knowledge into practice during my work at MIJN Accountantskantoor!
Thomas van Amsterdam
Assistent-Acccountant
At MIJN Accountantskantoor I get the opportunity to gain experience in the field of accountancy. Very enjoyable and educational.
Vincent Kriek
Junior ICT consultant
Making developments in the field of ICT is where my passion lies!
Jeroen Romijn AA
Partner
To us, your numbers provide the basis for the advise we give you. We like to look ahead with you and are your sparring partners. This is our added value.
Michel Bravenboer AA
Accountant
What's so nice about MIJN Accountantskantoor is that we do everything for each other, but especially for the customer.
mr. Nadine Edelschaap
Lawyer
Giving expert advice to the customer is where I get satisfaction!
Niels van Son
Assistent-Acccountant
The professional processing of financial data and the proactive support of entrepreneurs in practice are part of my work, a nice challenge!
Serhat Ipek
Assistent-Accountant
I can immediately apply the knowledge I gained in my studies at MIJN Accountantskantoor.
mr. Mireille van Wingerden
Lawyer
Finding a practical solution to the legal puzzle is something I enjoy helping clients with!
Ruben Potman
Assistent-Acccountant
Stefan Reinbergen AA
Partner
Many accountancy firms are rigid and formal, while we like to create a nice atmosphere. No stuffy culture, but speaking the language of the entrepreneur!
Tom van Eekhout
Assistent-Acccountant
Ghybrian Wolf
Junior tax specialist
As a tax specialist I am involved in the preparation of your income tax returns and corporate tax, a fun thing to do!
Gabriëlla Bik
Payroll consultant
The paycheck for many employers a concern, for me a passion!
vacancies
Meet the informal work atmosphere within MIJN Accountantskantoor.
Vacancy Assistant-Accountant
For our office located in Rotterdam we are looking for an junior assistant accountant who is willing to join our team.
In this function you perform various accountancy activities such as preparing annual accounts and interim reports. You control financial administrations and you provide periodic management information for various clients. In addition, you supervise interns with their activities. Taking care of the various tax returns is also part of your job responsibilities. You maintain contacts with clients and external agencies.
You:
Have completed at least a HBO study
Are practically minded
Have 2 to 5 years relevant experience in Accountancy
Are an enthusiastic and driven team player with good communication skills
Have affinity with IT
Are service oriented, both internally and externally
We offer:
An unique opportunity in an inspiring and dynamic environment to expand MIJN further
Many challenges and responsibilities
Possibility to further develop yourself
Very interesting and varied client list
Informal drinks at our own bar and famous teambuilding activities
Attractive employment and working conditions
MIJN Accountantskantoor is a young and thriving accountancy and consultancy firm located in an up-and-coming neighborhood in Rotterdam. MIJN supports entrepreneurs in financial, fiscal, legal and organizational areas. Our client list demands a broad range of services and operates both nationally and internationally. We distinguish ourselves through a completely digital process.
Do you want to apply or do you have questions about this vacancy?
Please contact Romy, info@mijnaccountantskantoor.com of 010-2410077
Vacancy Trainee
Are you looking for a challenging internship?
We offer a unique opportunity to gain knowledge and experience in an inspiring and dynamic environment. The internship is for a twenty week duration, 32 to 40 hours a week.
Contact us. We are eagerly awaiting your reaction.
Neem contact met ons op, wij zien je reactie met veel belangstelling tegemoet.
Open vacancy
Due to the continuous growth of our office, we are always looking for motivated colleagues. So if you like our vision and think you can offer a valuable contribution to our team, we would like to exchange thoughts about the possibilities of a career in our office.
Contact
Stop by our office for a cup of coffee or give us a call. We welcome you to talk to us about your ambitions.
Sint-Jobsweg 30V
3024 EJ Rotterdam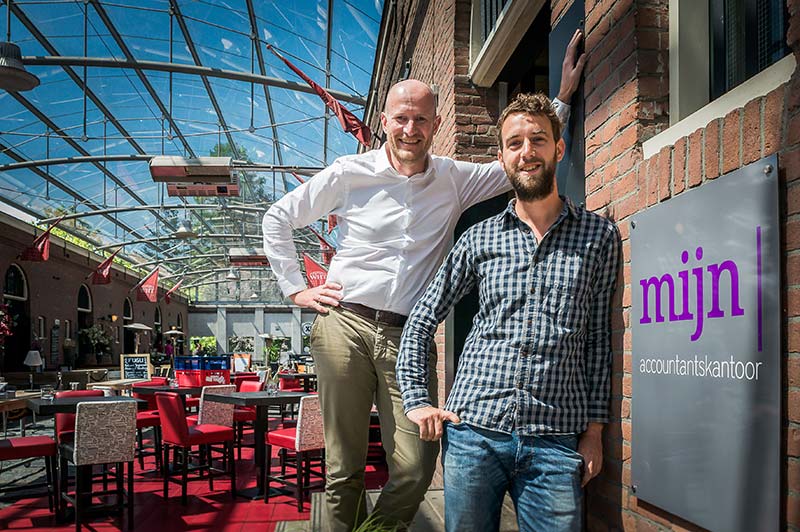 office
We are located in the monumental building De Herder on Sint-Jobsweg.
When entering Lloydkwartier you will find us right at the head of Jobshaven in the yellow brick building with the characteristic curved facade. This is a remnant of the former harbor railroad that made a bend here.
Our office is located on the second floor.